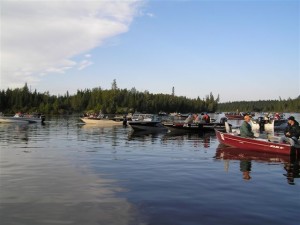 The Kapuskasing River Walleye Tournament is a Northern Ontario Walleye Trail (www.nowt.ca) sanctioned event held on the Kapuskasing River. This tournament is eagerly anticipated by anglers as it has a well-deserved reputation for big walleyes. In 2006 it took a 13+ pounder to take big fish honours. In addition, the 40km section of river offers a variety of structure & cover to offer good fishing for all sizes of walleye.
The organizers run an excellent event with good prizes and hospitality. This is a must attend event on the circuit. They is limited boat field so sign up early if you don't want to miss your chance at catching a walleye of a lifetime. Everything you need is available in the Model City.
2018 Dates:
August 10 – Rules meeting – All teams must register and attend the rules meeting.
August 11 – Day 1 8:00 am to 4:00 pm
August 12 – Day 2 8:00 am to 3:00 pm
Tournament Headquarters
Kapuskasing Sports Palace
70 Brunelle Road North
Kapuskasing, Ontario
KRWT HQ MAP
Tournament Location & Boundaries
Boat inspections and fish weigh-ins at the Fredd Flat launch site
Full and complete Starting and Weigh in procedures will be explained in detail at the rules meeting.
Fishing Boundaries are from the Fredd Flat Bridge north to Mattagami "100 foot narrows" and south to the mouth of the Groundhog River.
All boundaries will be clearly marked and the map and will be available for viewing at the hall.
Registration
Enjoy your Stay!
Visit the Kapuskasing website for information on where to stay, eat, shop and more while you're in town!