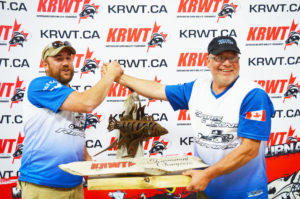 Kapuskasing welcomed over 200 anglers for the 2017 Kapuskasing River Walleye Tournament – the Northern Ontario Walleye Trail's fourth event of the circuit. Boats lined up on each picture perfect morning to hunt down winning walleyes on the Kapuskasing River.
Day 1 was lead by the team of Gaetan and Steve Dorval with 13.25 pounds. Hot on their heels was the team of Steve Gravel and Kevin Robineau with a weight of 13.03 pounds. Rounding out the top 3 was the familiar duo of Denis Martin and Perry Caverson.
Day 2 is always a challenge, providing opportunity for some, and additional pressure for others. The leader board changed up as Dave Lepage and Guy Dubosq lead the day with 11.87 pounds. Troy Khober and Marci Khober doubled up on their day 1 weight with 11.15 pounds, good for second place. Finishing third on Sunday was the father-son team of Mark and Noah Basaraba with 10.77 pounds.
With the weights totaled up, the Kapuskasing team of Gaetan and Steve Dorval claimed victory at the 2017 KRWT with a combined weight of 22.28 pounds, squeeking by the second place Timmins team of Jeff Vipond and Sebastien Lizotte by only 0.44 pounds.
The Top 10 of the 2017 KRWT (weight in pounds)
Gaetan Dorval / Steve Dorval (22.28)
Jeff Vipond / Sebastien Lizotte (21.84)
Denis Martin / Perry Caverson (20.94)
Steve Gravel / Kevin Robineau (20.38)
Dave Lepage / Guy Dubosq (19.26)
Terry Bernath / Jamie Robinson (18.79)
JC Carre / Simon Jacques (18.78)
Paul Godin / Lyle Biglow (18.73)
Denis Gendreault / Miguel Tailleur (18.16)
Mark Basaraba / Noah Basaraba (18.14)
For complete results, see our Results page.
For photos and commentaries, be sure to join the KRWT Facebook page!
Congratulations again to the organizers, volunteers, sponsors, Kapuskasing, and anglers. See you in 2018!